IAD's plaster gypsum false ceilings can be made of accessories of different sizes; we offer both classical and modern but always unique and elegant false ceilings. It is possible to apply decorative panels of different shapes and sizes.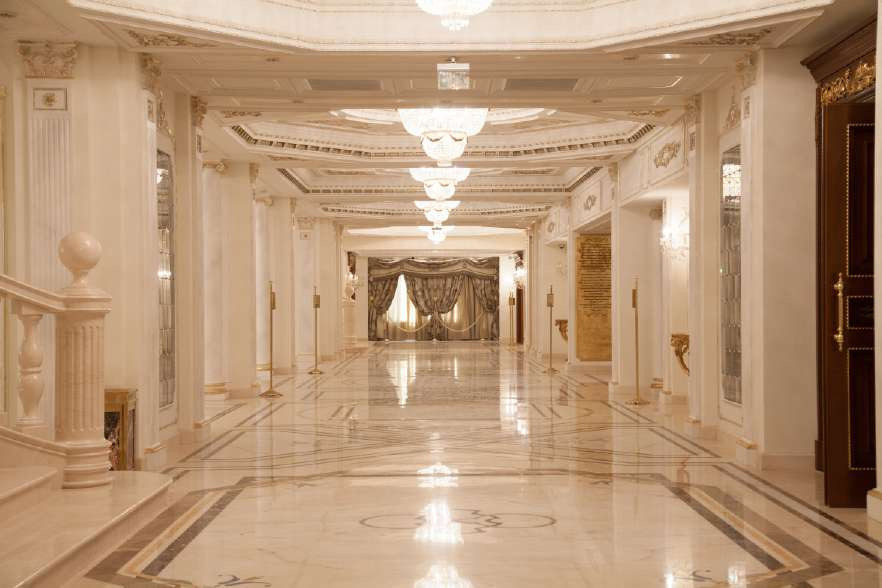 Plaster gypsum false ceilings
False ceilings are very useful for the coverage of installations and connection systems and, at the same time, the aesthetic result is excellent.
Cassettoni decorati in gesso
Sono dei pannelli decorati in gesso, la cui idea fu concepita in epoca romana, che vengono applicati ai controsoffitti e possono assumere diversi stili e dimensioni (l'impressione è quella di scomparti incavati nel soffitto). Sono disposti in maniera regolare e creano un notevole impatto visivo, conferendo un aspetto prestigioso alla stanza.
Laddove vengono richieste opere di restauro nel rispetto degli stili e dei materiali esistenti, IAD è in grado di realizzare qualsiasi decorazione direttamente in loco, permettendo così di ottenere decori di eccellente qualità e perfettamente fedeli all'esistente, senza stravolgerne l'essenza e il significato.
La realizzazione di un restauro IAD avviene secondo i seguenti passaggi, così come illustrati dalle immagini riguardanti il recente restauro di un'antica barchessa a Dueville (Vicenza):
1) Sopralluogo fisico per verificare lo stato dell'immobile o dell'elemento di interesse e per valutare l'intervento da svolgere;
2) Pulitura e stuccatura in loco degli elementi recuperabili;
3) Rilevazione dei calchi e modellazione in loco degli elementi mancanti o incompleti;
4) Lavorazione in laboratorio dei calchi, trasporto in cantiere e messa in posa;
5) Risultato finale del restauro