Restoration projects require a deep knowledge of the techniques and the materials used in different historical periods, in order to achieve a perfect and faithful reproduction of shapes and decorations and to avoid alterations or even losses of great historical value.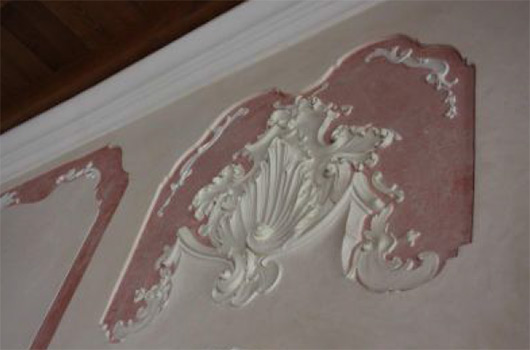 Italian Art Decoration is also specialized in restoration projects: our staff possesses excellent working skills that allow them to accomplish working activities directly in the worksite, like cleaning and grouting, creating plaster casts, recovering of irrecoverable decorations, creating new elements.
Carrying out a restoration
Whenever respect for existing styles and materials is demanded, IAD is able to create any on-site decoration, which actually enables to reach high quality and entirely truthful ornaments without distorting their essence and meaning.
A typical IAD's restoration project develops in few steps, as they are showed in the images about the recent restoration of an ancient barchessa in the town of Dueville (Vicenza):
1) Site inspection and surveys to establish the state of the element of interest and to evaluate the intervention;
2) On-site cleaning and grounting of recoverable elements;
3) Creation of moulds and on-site modelling of missing or uncomplete elements;
4) Processing of moulds in our laboratory, transportation to the worksite and application;
5) Final result of the restoring project.